Privat: PET-Crusher Type: HSM 1049 SA
Technical specifications
| | |
| --- | --- |
| Property | Value |
| External dimensions | 792 x 1.585 x 2.040 mm |
| Power supply | 400 V / 50 H |
| Motor | 3kW |
| Mass | 225 kg |
| Retail price | Price on request ! |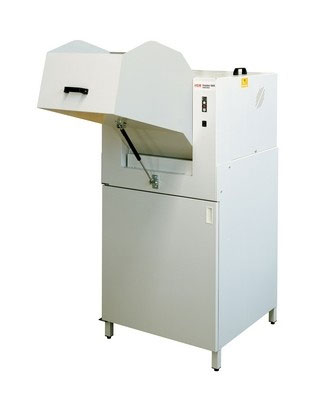 ...read more
PET-Crusher Type: HSM 1049 SA
Demonstration plant - as new
Construction year 2007
Immediately available from existing stocklieferbar
Subject to prior sale at any time!
Effective system for compaction of PET bottles and cans to approx. 1/3 to 1/4 of the original volume
g4 Robust construction.
Safe stamping, compaction and crushing of PET bottles and beverage cans in one workbook.
Simple operation with modern membrane keypad. Automatic stop with indicator light on full pickup truck. Removable sliding carriage for easy removal of the integrated reusable bag with 290 ltr. Collection volume.
Automatic shutdown of the device.
Shredder – Pressen – Kombination Type: HSM SP 5088
Technische Daten
| | |
| --- | --- |
| Property | Value |
| Press printing | 85 kN |
| External dimensions | 1.240 x 3.430 x 1.410 mm |
| Mass | 1.600 kg |
| Ballengewicht ca. | bis 95 kg |
| Bale size | 500 x 500 x max. 900 mm (length of the bale variably adjustable) |
| Retail price | Price on request ! |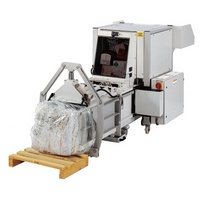 ...read more
Zwischenverkauf jederzeit vorbehalten!
Very powerful conveyor-type shredder combined with baler (types FA 500.2 and KP 88.1)
Cut size: 6.0 x 40-53 particles
Security level: 3
Material feeder via large worktable and electric conveyor belt.Folio keypad for continuous operation and return as well as auto reversing in case of paper jam. Modern PLC control with multilingual display and comfortable menu navigation. Automatic control of the pressing process via photocell.
Simultaneous destruction during the pressing process. integrated manual oiler for cutting unit.
Press with filling opening / inspection flap for separate insertion of non-confidential material or cardboard (size: 350 x 450 mm).
Additionally equipped with bagging device and bale ready display.